Profile
First things first: fill out your profile as an author. This step is important because publishers are not only looking for your articles. They want to know your level of expertise and interests, as well as your personality features and preferences. Find your profile icon in the upper right corner of the screen, hover your mouse over it to see the dropdown menu, and choose Settings.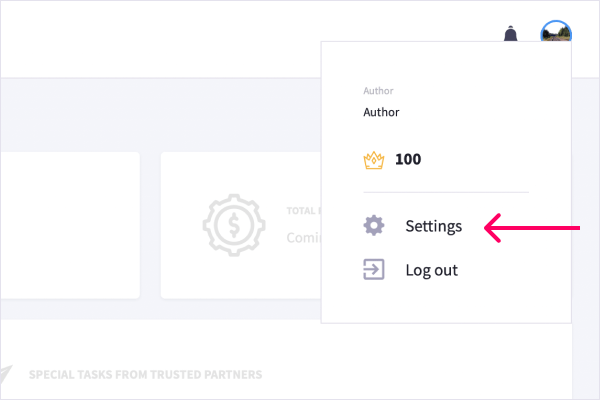 Public Account
Create your public profile on justContent to help publishers and readers learn more about you. Do not submit anything that you'd prefer to keep private.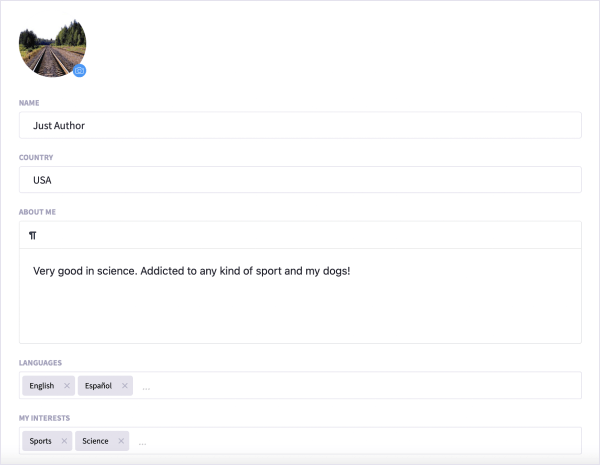 Upload an image of yourself or any copyright-free image to recognize you by (1MB or less, any shape, but a square is better for positioning).
State your Name (real or pen name).
State the Country you are from. Publishers need to know if you're deeply immersed in a certain country's culture to decide whether your content will resonate with their audience.
Fill out the About me field — about 200 or more words about your background, interests, anything about you, and your line of work that might characterize you as an author. Use the formatting features to structure your bio: use lists, bold type, italics, etc.
State the Languages you can write in. Choose every suitable option from the dropdown menu. If you can't find a language in the menu, write about it in the About me field. It's most likely that the language is not on the list because none of the publishers using the platform works with its native speakers. Yet.
Choose your Interests. Choose all the suitable options from the dropdown menu: start typing a word, and the list will show it to you if it is there. If you can't find anything this way, look through the whole list and choose from it or try synonyms.
Please note
Do not use offensive images. All author's profiles are moderated manually; any such photos will be deleted
Private settings
Everything you submit on the Private Settings page will remain private and not be displayed anywhere on justContent.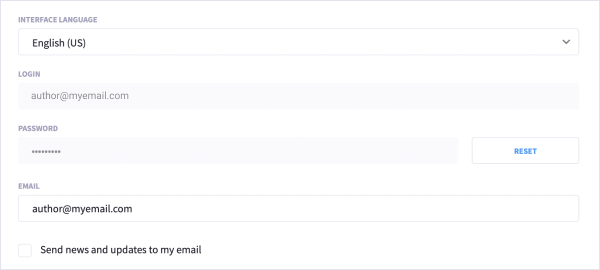 justContent is currently available in various languages. Choose the Interface Language that is convenient for you.
Fill out the Email field with your actual email address. This is a required step — after that, you'll be able to reset the password: click on RESET, and the new password will be delivered to your inbox.
If you want to receive justContent news and updates to your inbox, check the corresponding box.
Please note
You cannot change your login on your own. Even if you have provided a personal email address, you'll still have to log in using the personal access details issued by the platform administrators. For safety reasons, we will update your access details manually. When it is done, you will receive a notification.