Content Publishing Integration
Just one click – and the chosen content will be published on your website. By using just for publication, you'll be able to:
Publish anything you have in My Content (your own, rented, bought-out content),
Collect data about content views,
Manage content visibility: include it into the list on your website – or remove it from there,
Open content for indexing or hide it from search engine crawlers,
Create closing CTA blocks and manage them on any stage of publication,
Add SMS, email, or push notification copy for any content item.
Learn more about the publication functionality in the Content section.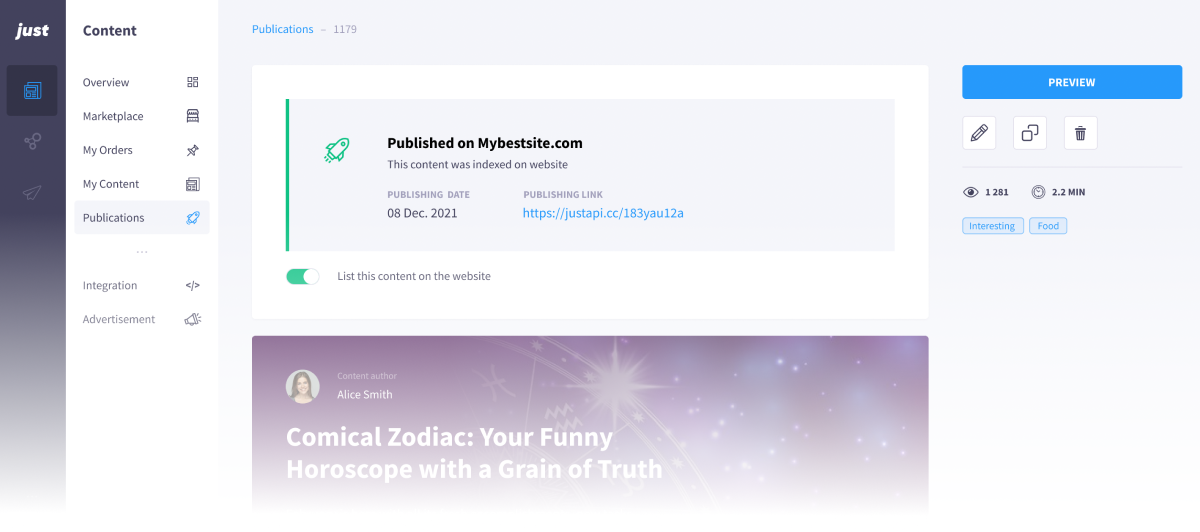 Integration Steps:
Make sure your website has gone through the process of registration in the just ecosystem. To do that, open Account Websites.

Create a URL for publications on the website that will store your published content. To do that, open Content Integration Add URL.

Use the API key you received and developer documentation for content management API, to enable content publishing on your website.
Please note!
Each subscription plan allows a different number of websites to be added. Learn more about the limits and ways to expand your capacities in the plan's description or on your dashboard.
What is the URL for publications?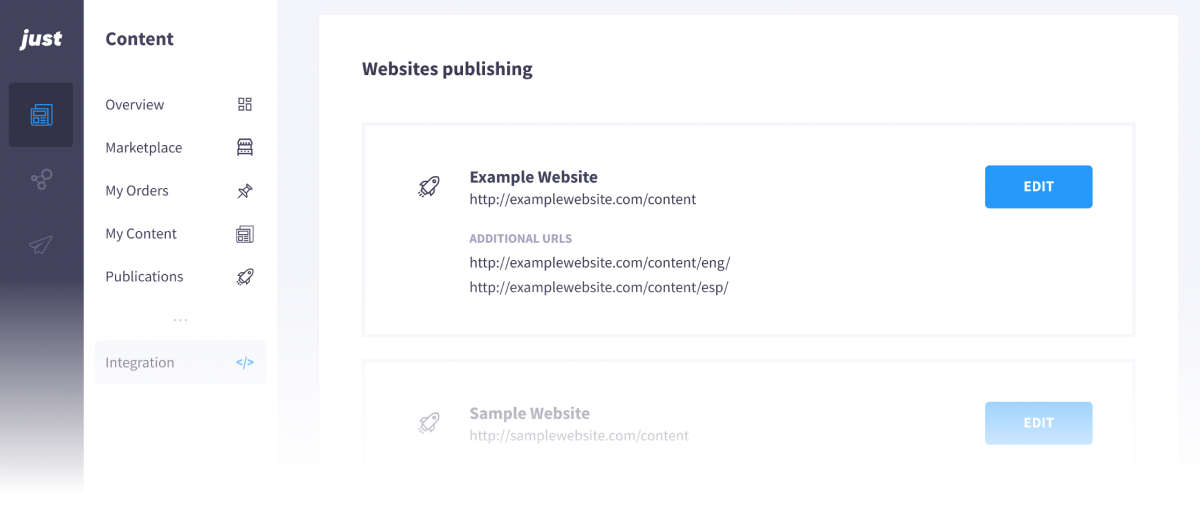 It is the URL that is assigned to the content you publish.
You added an URL for publication: https://mywebsite.com/content. After its publication, the article "How to Publish Content with just" will be available at https://mywebsite.com/content/how-to-publish-content-with-just
You want your content for English speakers to be available at https://mywebsite.com/content/eng/[content-name], and for Spanish speakers – at https://mywebsite.com/content/esp/[content-name]. Add those URLs for the desired website and choose which to assign to each content item you'll be publishing
Please Note!
You can add several URL sections and, while publishing a certain content item, choose the one you'd like to assign to it.